Year 2 Sycamore
Wow, what a fantastic time we had on our Residential Trip to Nell Bank. We had so much fun pond dipping, looking for minibeasts, using our different senses and pretending to be moles and badgers, finding out different facts about animals, playing on the adventure playground, and playing 'beetle drive'. We enjoyed a delicious dinner cooked by 'Chef Nancy' and enjoyed pizza, fries and ice cream- what a feast we had! We loved sleeping in our dormitories...but are quite tired today from all the excitement and fun we had!
On Wednesday 21st June, we had a 'Carnival Themed Day'. We tasted lots of different Spanish food, watched Spanish dancing, listened to Spanish songs and made carnival headdresses. What fun we had!
Friday 19th May 2017
L.C. Can I make a symmetrical shape with a partner?
Today in PE we worked with a partner, to see if we could make a symmetrical shape with our bodies.
We also put together a sequence of moves, showing three different symmetrical shapes. We then watched each other's performances and evaluated it, saying what we liked/what we thought was effective/symmetrical in the performance...Look at the pictures below and see what you think!
Today in our 'pirate crews' we programmed the beebots to travel to different destinations on the treasure maps we made...it was trickier than we thought!
This week in ICT we made our own 'Pirate' Beebot maps. We are now looking forward to programming the beebots to travel to different locations on the maps.
This week we have been learning to tell the time.
This week in Art, we looked at the work of an English/Canadian artist called Ted Harrison. We enjoyed looking at some of his paintings and discussing our thoughts and opinions about his. work We then started to have a go at creating a painting in the style of his work.
In World Wide Learning, we learnt about the famous explorer Captain Scott and then spent time using the laptops to copy and paste a picture into a document about the explorer.
Thursday 2nd March was World Book Day. We came to school dressed as a character from a book-we had a great day! The day started with a whole school assembly, where Mrs Hall explained why we were celebrating world book day and Mrs Farrah read 'Hairy McClary' she read using different voices-how we all laughed!
We also had to suddenly 'drop everything and read!' through out the day and Mrs Preston came in and read us 'Charlie and the Chocolate Factory'. In the afternoon we decorated our classroom door in the theme of the 'Cat in the Hat' by Dr Seuss - we had fun reading some of his famous, inspirational quotes.
This week we have been learning how to stay safe on the internet. We watched a video explaining about how we must ask for a grown ups permission before watching any videos online, and about the importance of not posting or sharing any pictures that may upset our friends online.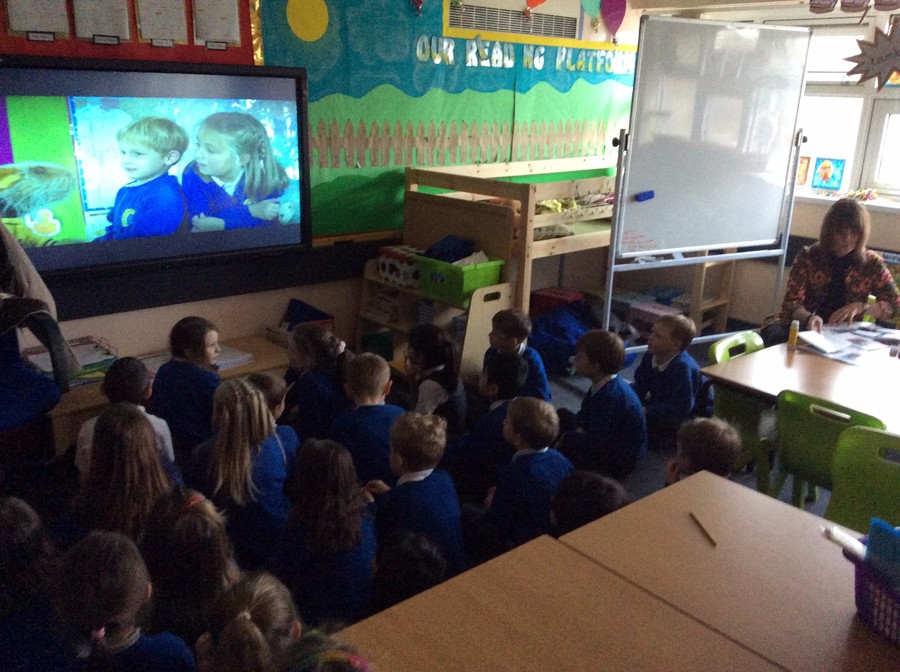 Last term we learnt about 'The Great Fire of London'. We imagined we were alive at the time of the fire and we spent time writing diary entries and newspaper reports. We also sequenced the events of the fire on a timeline and enjoyed learning about Samuel Pepys.