Week Commencing Monday 29th June 2020
Mini-beast Hunt Challenge
Hi everyone,

I hope you all had a lovely weekend despite the rainy weather.
Once the rain has stopped in a few days time, I would like to set you all the challenge of going on a mini-beast hunt.
Search around your garden or go on a walk.
Look under, over, in and on different objects to see what you can find.
You could take pictures of what you find or draw what you see when you get back inside. See if you can identify the bugs you have found using the technology you have at home or any books that you may have.
How many of each did you see?
Have fun! I can't wait to see what you find! Don't forget to post your photos and drawings on Tapestry.
Play dough Bugs!
This week, why not try and make some home made play dough!
With the dough that you have made (or using some you already have at home), why not try making some play dough mini-beats. I have attached some photos to give you some ideas. You can use a range of collage materials too and add things such as googly eyes and straw/pipe cleaner legs to your creations.
Encourage your child to answer questions that will develop their number and length vocabulary.
* Count how many spots you give your ladybird.
* How many legs does your spider have?
* Is your worm long or short?
* Are the bees wings big or small?
Don't forget to post photographs of your creations on Tapestry.
Week Commencing Monday 22nd June 2020
Shape Picture Challenge
Hi everyone,
I can't believe that another week has flown by so quickly again. I hope that you are all still keeping safe and well.
This week I would like to set your child a task all about shapes.
Please can you encourage them to make a picture/model using shapes.
This can either be using different shaped bricks, sponges and paint, cut up bits of paper, play dough, potatoes, toilet roll tubes etc (whatever you have available). It is OK for them to create a pattern, place shapes randomly or even try to recreate an object using the shapes.
Talk to your child about the name of the different shapes that they have used and encourage them to use language themselves to describe them (tall, round, straight, pointy).
I look forward to seeing their creations. Don't forget to post pictures of them on Tapestry.
Let's Get Creative
Here's another little challenge for your child to complete at home!
I bet you all have lots of recycling at home that you could put to good use! Why not use your recycled food packets, tubes, yogurt pots, boxes and bottles to create a junk model/sculpture.
I have attached a few photos from the internet with some examples of the types of things that can be created with a bit of tape and glue!
I am excited to see what you can come up with! Don't forget to post your photos on Tapestry.
Week Commencing Monday 15th June 2020
Reading Challenge
Good Morning everyone,
I hope that you have had a lovely weekend and all stayed safe and well.
I am looking forward to any photos/videos that are posted on Tapestry this week, to show me what you have all been up to.
This week I would like to set you a READING challenge.
I love reading and always try and find the time every day to escape into a good story. I love reading to my children too. Reading has definitely helped me to take my mind off a few things over these past few difficult months!
My challenge to you is to complete the reading challenge in the picture attached over the next week or so, reading lots of different stories in lots of different ways.
Why not try reading a book in a very unusual place too? (In a tree, on a swing, in a den, in the bath etc - I have attached photos from the internet with some funny ideas!)
There will again be a prize upon our return to school for the most unusual place that you read a story!!! (Parents, feel free to join in this challenge too!)
Happy Reading everyone!
P.S. Look out for the video of me reading you a story on Tapestry, from my own unusual reading place, later on in the week!
Mrs Neale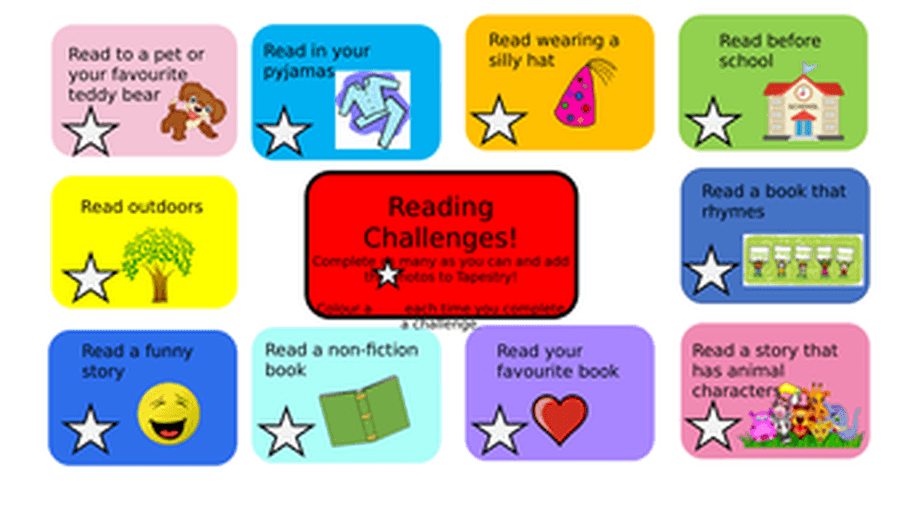 Nursery 'Bake Off!' - Mrs Maiden's Challenge
Hi everyone,
You are invited to take part in our Nursery 'bake off' this week if you like to.
Here are some ideas for you to try, you can make it your mission to bake moon rocks or have fun with bread dough making different shapes. You may even like to decorate some fairy cakes with different designs.
Have lots of fun baking and we look forward to seeing your designs.
Week Commencing Monday 8th June 2020
A Big Hello to all Nursery children and parents!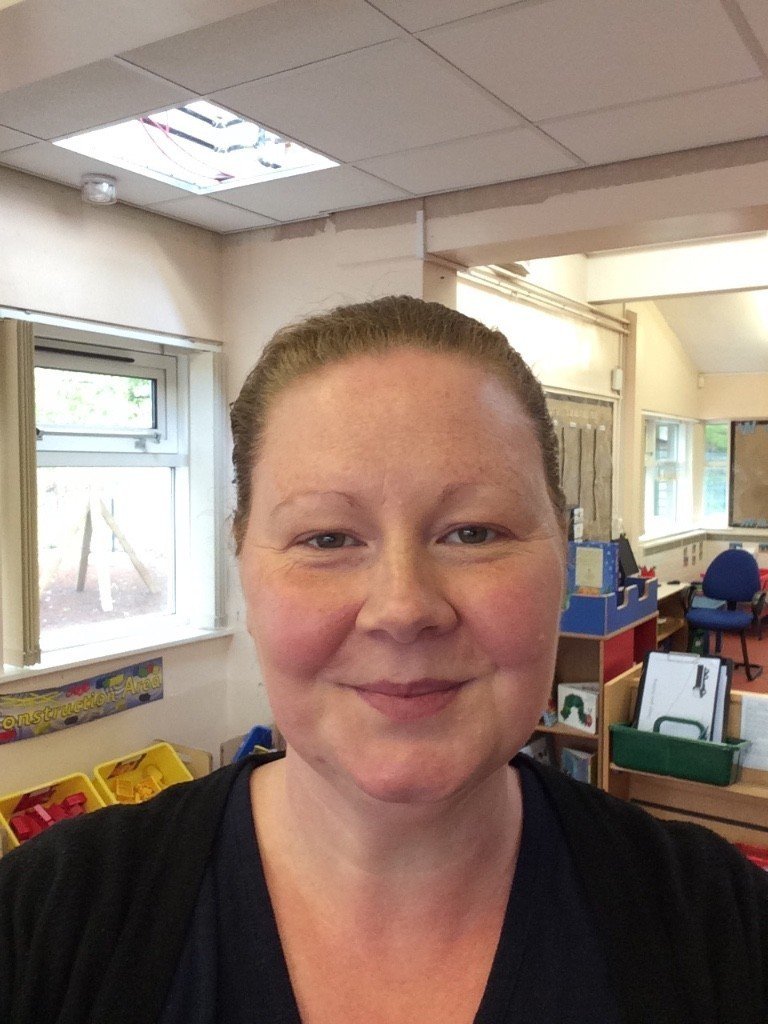 My name is Mrs Neale and I have just returned from my Maternity leave. I will now be your child's Nursery teacher either up until the end of this academic year (if your child is moving up to Reception) or I will carry on into next year if your child will be continuing on their Nursery journey with us in September.
I hope you are all safe and well, and have been enjoying spending time at home with your families during this difficult time!
Over the next few days and weeks I will be adding further links to the Nursery page below in order to help you with ideas for different activities that your child can do at home, either independently or with an adult. I will also be posting challenges and activities on Tapestry too. Please feel free to post videos and photographs on your child's Tapestry page about what your child has done at home as I would love to see them.
Please do not worry about how much 'work' you are or have been doing with your child, just enjoy playing with them and exploring, using what you can.
I look forward to hopefully meeting you all soon,
Mrs Neale
Please continue to keep completing the 50 activities to do before your child is 5.
Some of these may be hard to do under the current circumstances due to needing to stay at home more or because of social distancing rules, but there are still lots that can be done.
There are even ideas on the website about some that can be completed in the company of older siblings too!
https://bradford.50thingstodo.org/app/os#!/50-things-to-do-before-youre-five
Don't forget to post your experiences on Tapestry for us to see!
Mark Making Ideas
Early writing skills in young children are best developed through using a range of sensory experiences and equipment, rather than just simply with a pencil and paper.
Children who are not yet ready to hold a pencil need the experience of using their fingers and other tools to make marks on a large scale, outside if possible.
Those older children who are ready to practise writing the letter shapes in their own name (or even others too) can also benefit from using different equipment, making the experience sensory and on a large scale, before honing in on correct size and formation.
Below are a range of photographs showing different sensory mark making ideas.
Try using things you have in the house such as shaving foam, flour, salt, sugar, jelly, cornflour, paint, water, chalk etc in order to allow your child to explore making marks and letter shapes (if they are ready), with tools such as brushes, rollers, their fingers; even trains and cars are good fun along home made roads and tracks!
Don't forget to post any photographs or videos of your child's experiences on their Tapestry page for the Nursery adults to see.
Number Hunt - Mrs Maiden's Challenge
Hi everyone,
Here is a challenge for you to do, can you find any numbers in your environment?
You may find some numbers around you at home, when you go outside or if you travel somewhere in a car.
I found some numbers in Nursery today, see if you can find some more and please let me know if you do.
I hope that you are all keeping safe too.