Year 1 Birch
Welcome to Year 1 Birch class!
Our teachers are Mr Balmforth and Mrs Butterfield.
Our P.E days are Tuesday and Friday. Don't forget to bring your P.E. kit!
Our reading books are changed on a Monday, Wednesday and Friday. Please remember to bring your diaries and books so that yo can change them!
We visit the Library on a Monday. Please remember to bring your library book so you can get yourself a new one to read at home!
1 Birch enjoyed looking at traditional tales and loved retelling Goldilocks and the Three Bears. We looked in detail at the story and recognised the beginning, middle and end of the story, as well as the character's feelings.
They wrote their own Goldilocks and the Three Bears story using special books. When they had finished writing their stories they read them to Reception to make them happy and it worked!
Please look at the pictures below!
The Old Woman from the Gingerbread Man emailed Year 1 because her gingerbread man ran away from her. She wanted to make another one but had lost the recipe so she asked Year 1 to help.
Of course, we were only too happy to help but it did mean we would have to make some first!
Some photos are included below.
Here we are enjoying our creations!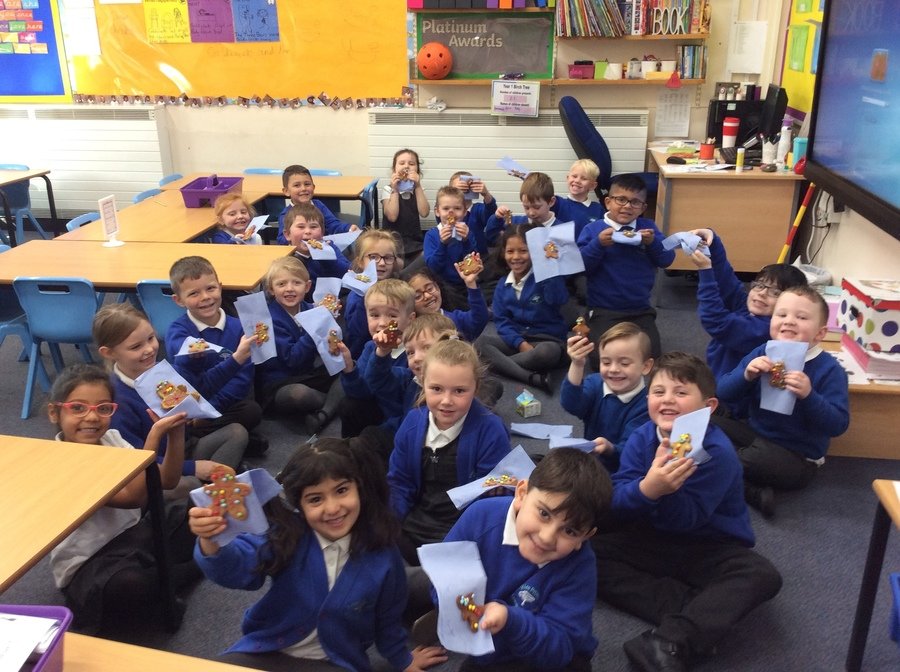 We are currently learning about the story of Goldilocks and the Three Bears. We have been doing some super writing on our colourful stories sheets and are working hard to remember our capital letters, full stops and finger spaces.
Its been an exciting start to the year, and the children have adapted to the busy year 1 schedule with great enthusiasm!
We also enjoyed our skipping workshop! Please take a look at our pictures!
These are our Year 1 Common Exception Words. Children need to be able to fluently read and spell all these words by the end of the year.